indy 500 memorabilia collectibles
The Indianapolis 500 "The Greatest Spectacle in Racing" auto race run on each year on Memorial Day weekend has been going on since 1911 and was won by Ray Harroun in the Marmon Wasp. As a kid growing up just outside on Indianapolis my first visit was in 1965.
Be sure to check out our current Indy collectibles.
Collecting memorabilia from this race is something that crosses all ages from 80/90 year olds to 8 or 9 year olds. Getting to take your kid or grandkids to this famous race track is a great feeling. I took my granddaughter to the track in 2014 and as we got out of truck to go buy our tickets a car came through turn 1 and the eyes on my granddaughter got as big as silver dollars. She could not see the car but the noise the engines made got her attention.
There are many types of collectibles and memorabilia from paper products such programs, stickers and banners to collectibles such as diecast cars, race helmets, suits and car parts.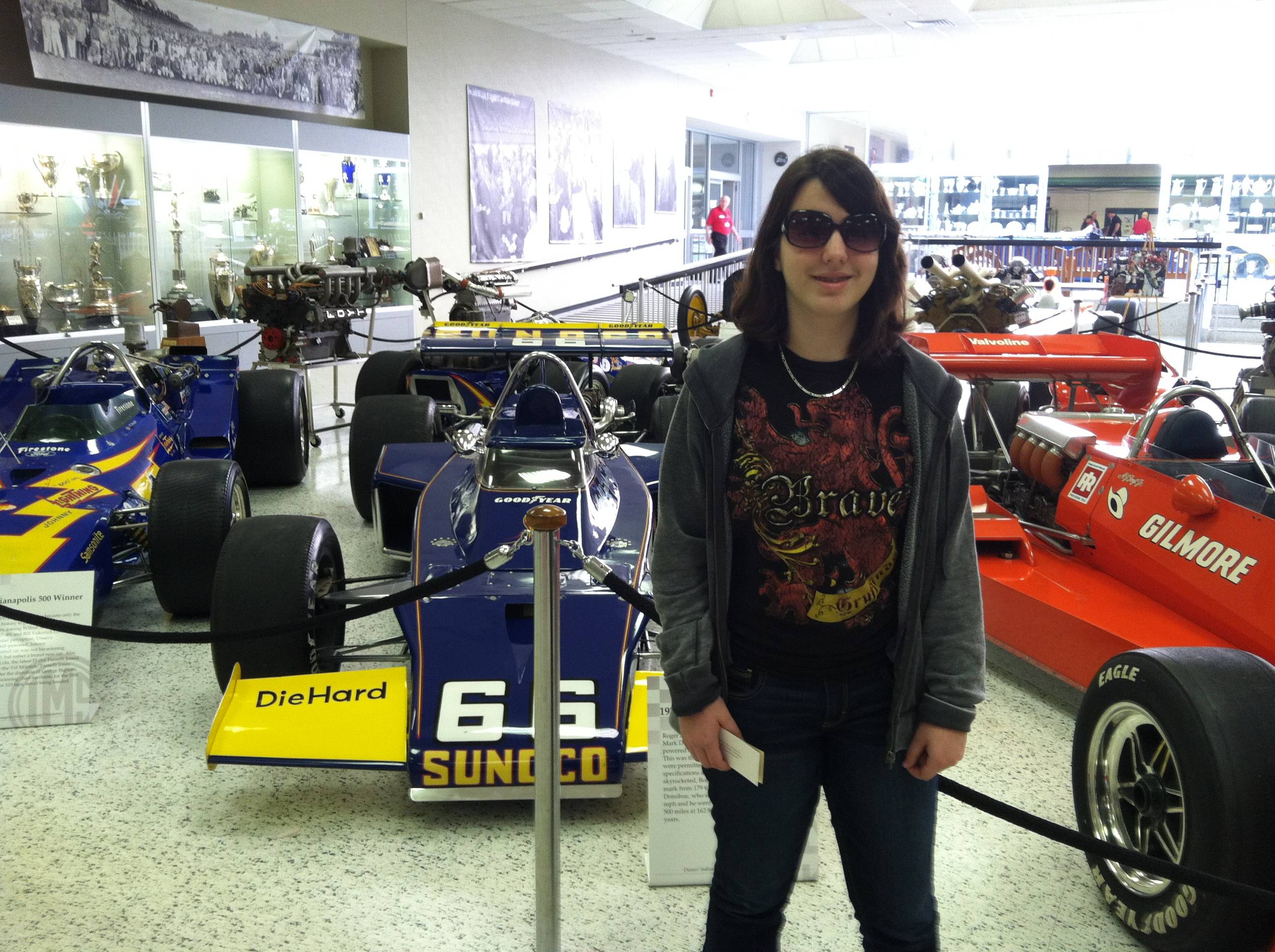 2014 Trip to IMS with Ed Carpenter winning the pole in the Fuzzy Premium Vodka #20. We love ECR racing.
Living in Dayton I had the opportunity to meet former driver David "Salt" Walther who is known for the spectacular crash at the start of the 1973 race. After his passing in 2013 we had the opportunity to sell some of his racing gear including the last helmet he wore at the 1991 Indy qualifications and a race suit.
In 2015 we got the privilege of taking Salt's daughter Brittainy to IMS for qualifications to show her where  her dad and grandfather George had spent many a year racing. We took her to turn 1 the scene of his accident and unbelievably met 2 retired track safety members who were on the scene to help with the crash.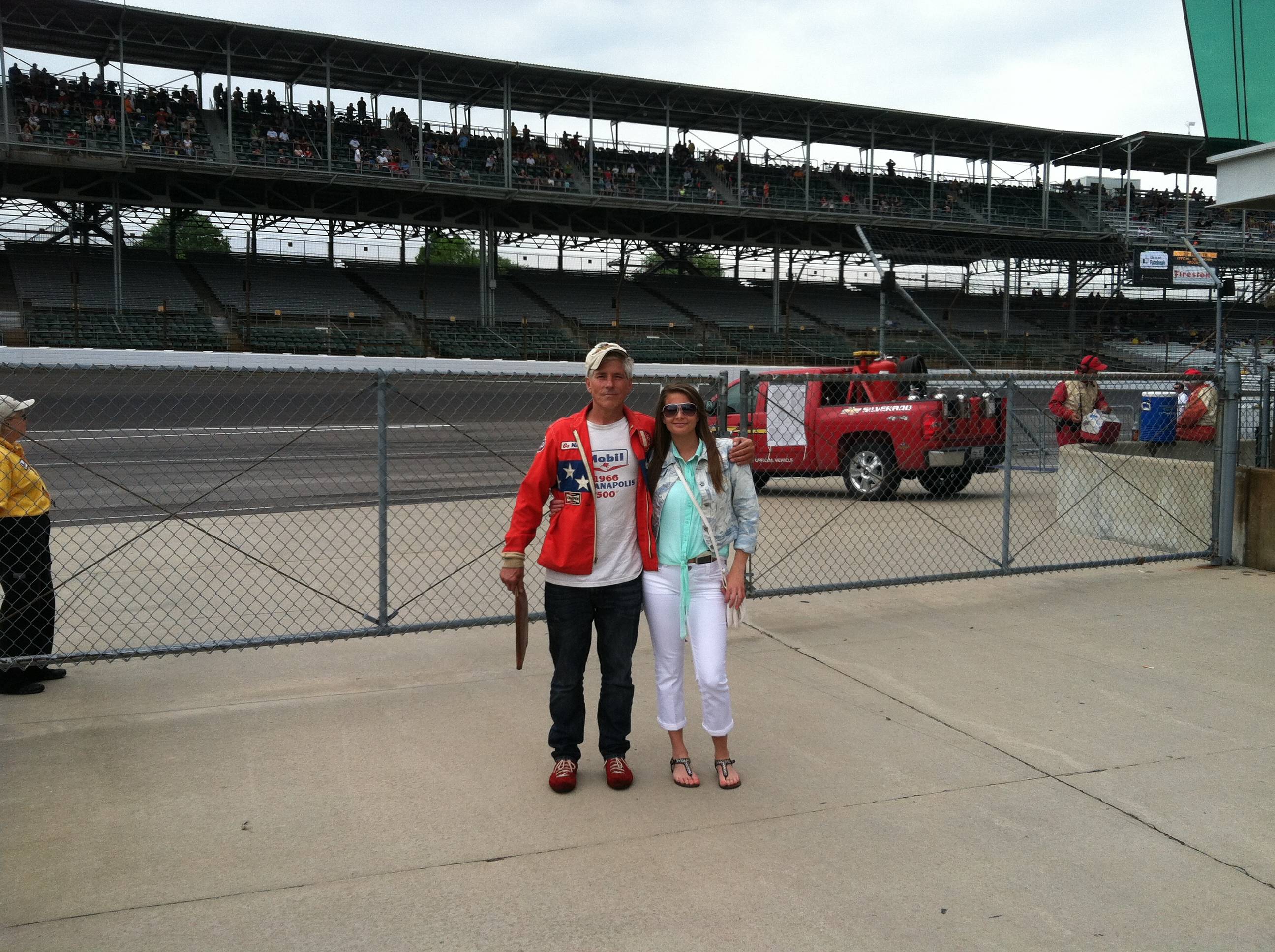 Brittainy Walther with Chuck Little Salt's long time friend in turn 1 of IMS.
Salt Walther's 1978 Driver Suit he used that season. Salt driving the Dayton-Walther Racing car #77 finished 28th at Indy that year with clutch failure on lap 24. A Simpson suit with large Goodyear banner on back & other sponsors on the front. This we sold for over $1200.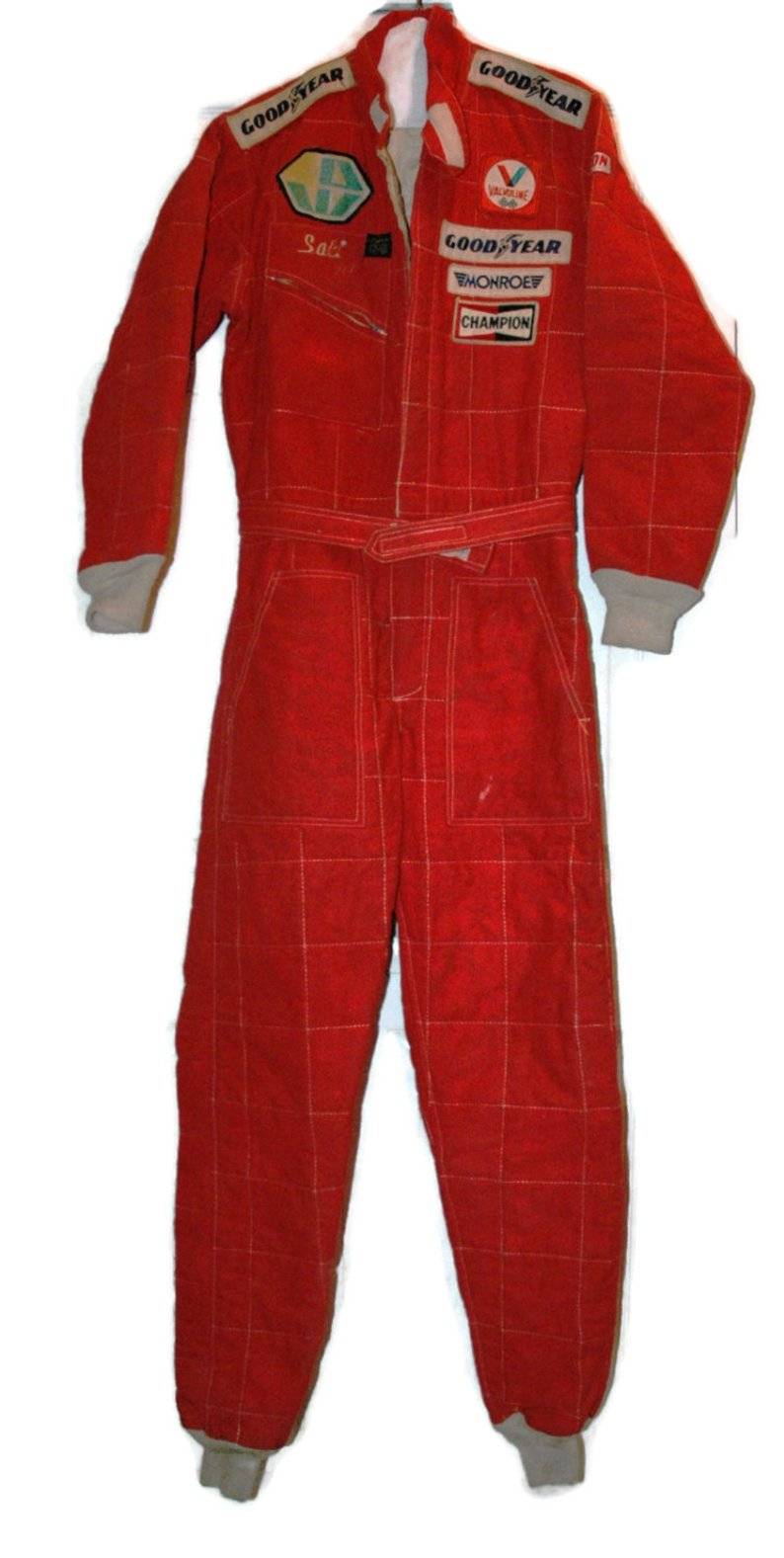 This Simpson helmet was worn during 1990 time trials at Indy while qualifying his McLaren/Penske MP5 car bumping Jeff Andretti from the race. Moments later he was bumped by the last driver on the track Rocky Moran at the closing gun on Sunday. This was Salt's second to last attempt at Indy. The helmet includes a USAC Register Serial No. 1090. This we sold for $1000.
For the more advanced collector are Indycar parts. This is the wickerbill from the crashed #77 Dayton Walther McLaren. The rest of the car is in the Henry Ford Museum.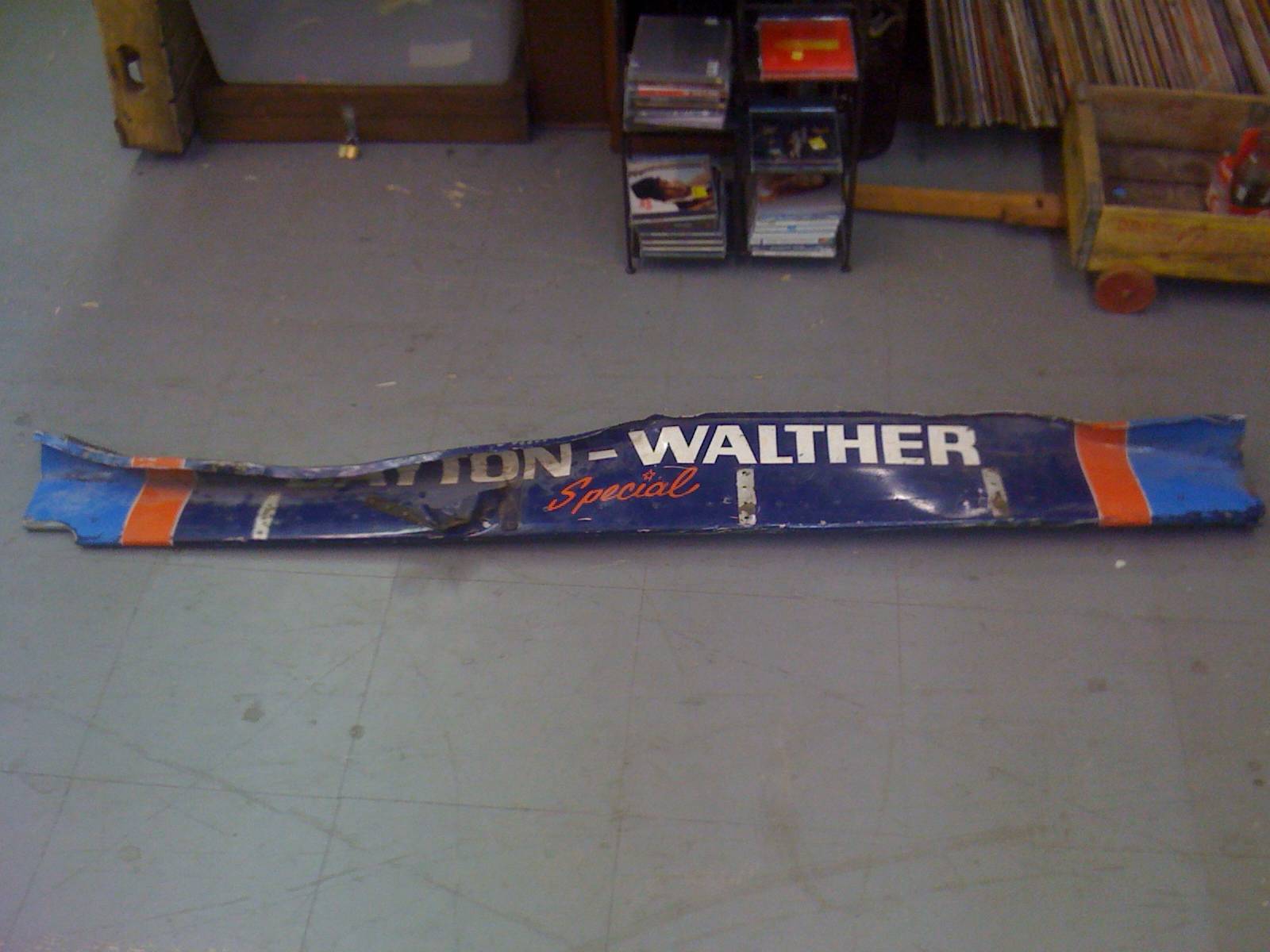 Racing and team programs are highly collectible and specific years with a legendary driver winning such as Jim Clark or A.J. Foyt can command top dollar.
Memorabilia such as Banners, flags and race stickers [these could be bought or sometimes were given away at the track] are very collectible and can be bought for reasonable prices.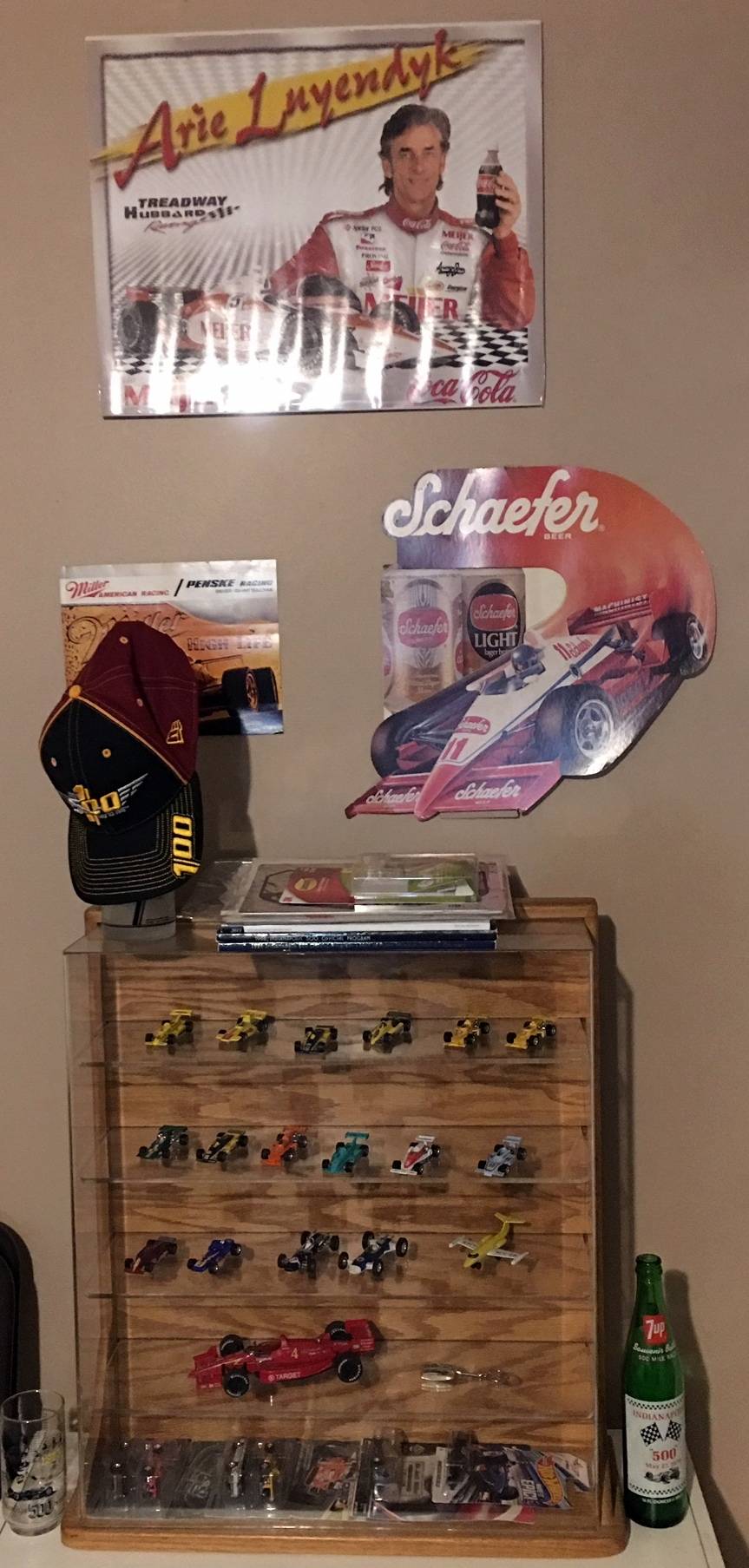 For those in to diecast you can get Indy cars from Mattel Hot Wheels or very true to life from Johnny Lightning. Here is my collection.
Finally there are photographs that are either on track and in the pits usually taken by newspaper and track photographers. Here is my collection.
Juan Fangio top F1 Champ in Dayton Walther Car, Salt Walther 1978 left, Tom Carnegie center, Rex Mays & 1990s pit action.